Como's An Old Favorite With A New Look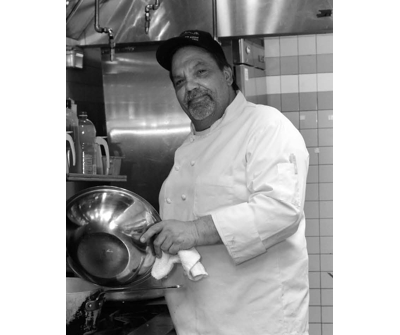 Story by Sarah E. Teller
Photo By Bernie LaFramboise
George and Cecilia Grego purchased Como's restaurant, on the corner of Nine Mile Rd and Woodward, on April 1, 1961, and since then the restaurant has been a staple in the Ferndale community. The Italian hot spot is best known for its pizza. "We have the best pizza anywhere around," says Como's manager, George Grego Jr.
Como's has a full bar and regular entertainment, combining dining and drinks, great for any sized party. It will offer a fun-filled lineup for the upcoming Blues Festival, January 27th through February 4th. "We'll have entertainment each night," George says.
There is a banquet area that can accommodate up to 100 people, as well as a private dining room seating up to 40. In warmer months, the outside patio seats several hundred people. "It's a simple phone call," George says of how quickly a reservation for a special event can be made. Como's also hosts birthday parties, wedding and baby showers and other celebratory events.
Como's reopened in October 2016, after having been cited for several violations related to cleanliness and the safety of its food, including citations for its kitchen area and ultimately closed by the health department the previous month. A lot of it had to do with "noncompliance of staff," according to George. "We have a lot of new staff now and have remodeled." Of the original 20-plus employees, only six have been retained. "No money had been put into the restaurant in nearly 20 years," George adds.
"We've taken this opportunity to put the funds in that were needed." Most of the building has been gutted and the space has been completely transformed, with all violations properly addressed and eradicated.
"We've made some fantastic changes and additions, and have thoroughly addressed and resolved any outstanding issues with the Oakland County Health Division," George also indicated in a press release following the restaurant's reopening. "All current staff are ServSafe certified." ServSafe is a program that uses FDA Food Code guidelines to provide safety education and training to anyone employed at a restaurant who handles food.
George credits much of the positive change to Como's new award winning chef, Pete Lech, a graduate of Schoolcraft College who served as an executive chef at Andiamo Italian Restaurant for a number of years. "Pete is just great," he says. "He comes with a wealth of knowledge and experience."
The restaurant has instituted some great specials to make sure members of the community stop by and check out the changes. "We have the best specials earlier in the week," George says. On Monday's Como's has half-off all pizzas. On Tuesdays, pasta is buy-one, get-one free. And, on Wednesdays, patrons can enjoy a strip steak dinner for just $20.  "It's a little-known fact that Como's delivers, too," George says. "And we even deliver beer and wine.
Como's Restaurant is located at 22812 Woodward Avenue.
Staff can be reached at 248-548-5005.