Ferndale Friends' Music Writer Jeff Milo's Top Local Albums of 2015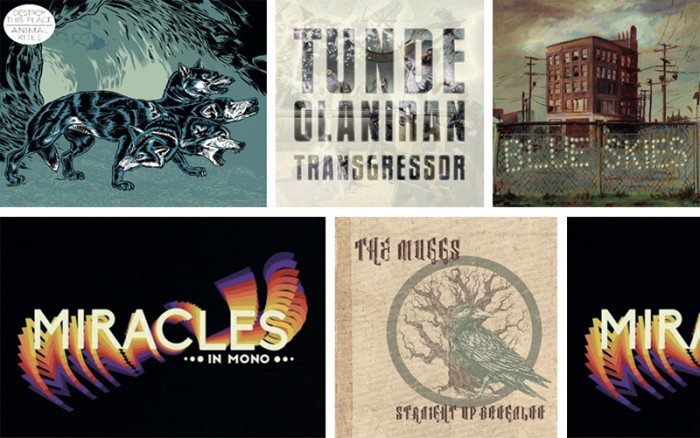 Hey! IT'S THE HOLIDAYS. YOU'RE ANXIOUS. WHAT'S THAT PERFECT GIFT TO GIVE THAT WILL ALSO MAKE YOU FEEL FULFILLED? I'VE GOT IT. LOCAL MUSIC. WHILE I WAS PUTTING TOGETHER THIS COLUMN, I FOUND IT WAS TOUGH TO NARROW THINGS DOWN. THERE WERE SO MANY AWESOME LOCAL ALBUMS RELEASED THIS YEAR FROM METRO DETROIT ARTISTS. YOU COULD EASILY FIND THE PERFECT GIFT EITHER AT FOUND SOUND IN FERNDALE, OR MAYBE UHF UP IN ROYAL OAK OR STREET CORNER MUSIC IN OAK PARK, JUST BY WALKING IN AND ASKING WHERE TO FIND THEIR "LOCAL MUSIC" SECTION. OR, YOU CAN FIND THE SONGS ONLINE, VIA BANDCAMP.COM OR THEIR MAIN MUSIC SITES (I'LL INCLUDE SOME LINKS.) THE ONLY THING LEFT TO DO NOW IS MAKE A LIST & CHECK IT TWICE! (THEN PRESS "PLAY".)
RYAN DILLAHA & THE MIRACLE MEN – MIRACLES IN MONO
This poetic singer/songwriter demonstrated his knack for classic honky-tonk, but he couldn't shake his lingering lean towards a more rock 'n' roll swagger. With a tremendous team of players like The Miracle Men having congealed a brotherly chemistry with the Ferndale based Dillaha, they were able to transmit the rock energy of their live shows onto a record that is as pastoral as a heartfelt folk anthology and yet also wears its blue collar scuff marks with quiet pride, as though emitted from a beer-splashed jukebox. ryandillaha.com
DESTROY THIS PLACE – ANIMAL RITES
Because this quartet doesn't take anything for granted; that's what makes them dangerous. Local music fans have been seeing these four players in other bands over the last eight or nine years so you already know they've got the pop/rock goods; but that doesn't mean any of them approach DTP's blitzing songs and live shows with any sense of local super- group entitlement. In fact, Animal Rites shines because of how much attention and meticulous care each player contributed to the overall composition. It may be the loudest, hardest and fastest they've ever played in their lives, but their savvy sutures a new kind of grace onto that grit. destroythisplaceband.com
OLD EMPIRE – HOW TO MAKE AN ENTRANCE
Old Empire perfected the popera, or mini pop opera, with their latest batch of rockers. The local quartet go back to the riffy qualities and driving backbeats of seminal indie-rock and imbue it with a sweeter layer of harmonization between its male/female co-leads, laying out rich narratives resonating with eerily relatable sentiments and wisdom-ringing gut punch encounters from a weekender's life "on the scene." Old Empire makes the pop jams for the converted cool, the reformed scenesters who've attained a more worldly sensibility. Fun, freewheeling stompers that also make you stop and think. oldempire.bandcamp.com
PROTOMARTYR – THE AGENT INTELLECT
This Detroit quartet became the darlings of several tastemaking blogs and hipster music zines across the country with their last record's exceptional blend of post-punk
caustics, no-wave defiance and art-pop dynamism. Their latest demonstrates a sensibility for effective minimalism; the right tone of guitar over the sparsest clasp of drums and bass with that gravel-ly lead vocal, settin g moods of ponderous dread and cathartic cool. protomartyr.bandcamp.com/releases
VSTRS – VSTRS
VSTRS (as in, Visitors…as in, from an alien world…) are a mixed bag of music, from post-punk to new wave, to alt-rock revivalism and anywhere in between. Spacemen 3 or Mercury Rev or Siamese Dream-era Smashing Pumpkins might be good reference points, but that would also leave out some of their other inclinations towards a bit of krautrock and spacey psychedelia. visitorsarehere.bandcamp.com
ANCIENT LANGUAGE – FOLK SONGS
Initially the instrumental compositions of electronic music producer Christopher Jarvis, his brother Zachariah joined a year ago to add funky flourishes of live bass. Fans of seminal trip-hop, ambient electronica and evocative dream-pop should tune in. ancientlanguage.bandcamp.com
800BELOVED – SOME KIND OF DISTORTION
The psychedelic, shoegaze-informed, pop-ensconced noise rock of visionary songwriter / producer Sean Lynch, this trio put out their most invigorating and provocative album to date. Listen now! Their facebook page has hinted at an inevitable self-imposed demise. 800beloved.bandcamp.com
FLINT EASTWOOD – SMALL VICTORIES
This Detroit-based project is powered by Jax Anderson, a force of nature when it comes to forging endearing and relatable lyrics onto irresistible arrangements of dance-pop synthesizers, cinematic sounding guitars, window-rattling bass and nimbly-footed percussive hooks. flinteastwoodmusic.bandcamp.com
THE WHISKEY CHARMERS – THE WHISKEY CHARMERS
I'm continually charmed by the Charmers, a local duo that mine the darker sides of folk, blues and country twang to unearth a literary-tinged mysticism crossed with a quasi campy, geek sophistication; imagine if murder ballads and
ghost stories had a lot of surf-rock reverb. I could imagine their music being on almost any Jim Jarmusch soundtrack. thewhiskeycharmers.bandcamp.com/releases
MEXICAN KNIVES – MEXICAN KNIVES
Dynamic, dark-sider surf punk, with a bit of SW country-rock valiance; sounding something like Quentin Tarantino's alternate universe conception of CBGBs-era New York grime rock. mexicanknives.bandcamp.com
GEORGE MORRIS & THE GYPSY CHORUS – WE WILL GO TO HELL FOR THIS
A bit of throwback-ish minimalism, bringing an edgy indie- rock aesthetic to a piano and synth-centric pop balladry. There's a universe of difference between 28 and 18, and Morris, who was initially whisked away to L.A. for his first breakout rock band, has such an endearingly wiser and relatable take on life, not to mention an uncanny sense for the most persistent earworm melodies. georgemorris.bandcamp.com
TUNDE OLANIRAN – TRANSGRESSOR
There are several adjectives I could employ to elucidate this remarkable lyricist, performer, choreographer, designer, and producer; words like awe-inspiring and show-stopper and pop-iconoclast. Electronic, hip-hop, soul, R&B, dance-pop… Everything at once. Tundeolaniran.com
MAKE SURE TO INCLUDE THESE ON YOUR LIST, TOO!
Moonwalks – Lunar Phases – http://moonwalks.bandcamp.com/
Muggs – Straight Up Boogaloo – themuggs.bandcamp.com Valley Hush – Don't Wait – valleyhush.bandcamp.com Mountain Club – Time Waits for No One – mtnclubmusic.com Crappy Future – Internet Cache – crappyfuture.bandcamp.com
JUNGLEFOWL- Strut – junglefowl.bandcamp.com
LT. Bad – Electromagnetic – ltbad.bandcamp.com
Casual Sweetheart – Always/Never – casualsweetheart.bandcamp.com
Pink Lightning – Blue Skies – pinklightning.bandcamp.com
If something happened with our soundness, we believe there is a solution to any maladies in a preparation. What medicines do patients purchase online? Viagra which is used to treat impotency and other states connected to erectile dysfunction. Learn more about "sildenafil". What people talk about "viagra stories"? The most vital aspect you should look for is "sildenafil citrate". Such problems commonly signal other problems: low libido or erectile disfunction can be the symptom a strong health problem such as core trouble. Causes of sexual dysfunction turn on injury to the penis. Chronic disease, several medicaments, and a state called Peyronie's disease can also cause sexual malfunction. Even though this medicine is not for use in women, it is not known whether this treatment passes into breast milk.