By Ingrid Sjostrand
WHEN ICE THAWS AND THE SNOW MELTS, Metro Detroit streets start to fill with the dusted-off motorcycles previously hibernating all winter. Oftentimes after a harsh season, these bikes could use a little love – or maybe an extreme makeover – and that's where Bad Pig Customs takes pride.
"We service and build motorcycles; we do anything from A to Z as far as customization goes. And we've got a storeroom that has parts, so we can do part sales," co-owner Dave Foster says. "We can't sell motorcycles because we don't have a dealer's license, but we do everything that needs to be done on American motorcycles only."
Located at 1806 E. Nine Mile, Foster and his partner Mark Zagacki opened their Hazel Park shop in 2012 when they saw a growth in the industry and a lack of shops like theirs.
"There was a need – not just in the city, but in the motorcycle industry. It is getting larger because of gas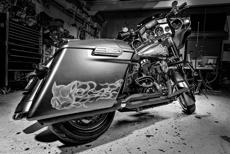 mileage and stuff," Foster says. "It's a shame that in Michigan it's not a necessity to have a motorcycle because of our weather – real short season – and the state considers it a recreational vehicle." Foster says.
ONE THING THAT MAKES BAD PIG CUSTOMS unique is that they have an in house parts shop, so there's no waiting for parts to be ordered and shipped in. Zagacki is actually well-known in the community for his parts knowledge and accessibility.
"We're actually two businesses in one. We have Oak Park Mark — he sells parts — and then Bad Pig Customs is about service and custom builds," Foster says. "We're partners but I try to run this side and he tries to run that side. He's been known as Oak Park Mark for many years, so we threw the second business in there."
Being located in Hazel Park has served the business fairly well too, and they are hoping to add a local bike night but are still searching for the right location.
"It's actually a really good location, we're right on the edge of Macomb County, Wayne County and the Southeast corner of Oakland," Zagacki says. "We're kind of positioned in between the little four corners, and we're far enough away from Harley dealers that we shouldn't really take away from any of their business." "There aren't too many bike shops in our ten-mile radius," Foster adds.