By Jenn Goedekke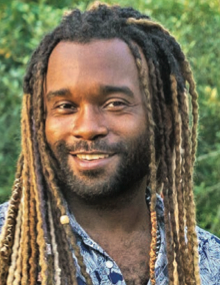 GEORGE MONTRELLE IS A LOCAL MUSICIAN WHOSE SOULFUL SONGWRITING ENCOMPASSES a broad array of influences, from Allen Stone to Fall Out Boy, and more in between.
With an EP named LOVE UNFOLDING released on May 20th, 2022, Montrelle is expressing his "passion for music and who I am today. It ties everything together!" The EP comprises five songs that were independently recorded and produced. It marks a significant milestone in his musical career, which he describes as "a long journey – but I'm moving at a good pace!"
Montrelle began songwriting around 16 years of age. He comes from a creative, loving, and resourceful single-parent household. Often, he would listen to his siblings' music collections, including soul, R&B, hip-hop, and gospel music. Since those early days, he has played some unique gigs and has formed a clear vision of his musical path.
Prior gigs have included the Willis Show Bar in Midtown Detroit; Otus Supply in Ferndale ('Singers in the Round'); and the Axis Lounge within the MGM Grand in downtown Detroit.
Montrelle graduated from the Detroit Institute of Music Education (DIME) in 2020 and was awarded a Bachelor's in Commercial Songwriting. There, he learned a lot about all aspects of the music industry, including the business culture and networking. He told me, "It felt good to finish the program. I wouldn't trade it for the world!" He also auditioned for American Idol.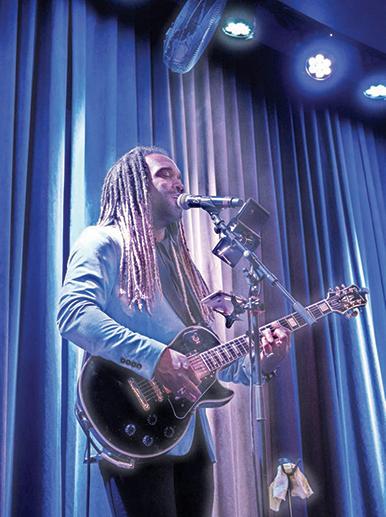 Please tell me more about LOVE UNFOLDING.
LOVE UNFOLDING is the first group of songs I've ever released that is self-recorded and self-produced. It represents the adoration and development of my path, my partner, my passion, and myself. It also symbolizes growth, joy, humility, challenges overcome, and the pursuits of my deepest desires in life.
Any collaborations or core influences?
Briefly, Allen Stone, Hiatus Kaiyote, the '90s, and 2000s hip-hop, older R&B, oldies, and 2000s alternative rock are some of my influences for LOVE UNFOLDING. I also like Sam Smith and Bruno Mars.
Which of your gigs stand out, and for what reasons?
Willis Show Bar in Midtown was amazing, pre-Covid. Loved the stage and the music we got to play. More recently, MGM Grand has been a great time. Loved being able to perform classics and modern tunes to an appreciative crowd!
Future gigs or perhaps a tour?
I'll be performing for the Juneteenth Celebration hosted by the Ferndale Library at the Green Acres Park in Hazel Park, with my band. The event is on a Saturday, June 18th, 2022, the day before the official Juneteenth holiday. Also, Sunday, July 31st, 2022, I'll be playing for Ferndale's Nine on Nine Series down at Schiffer Park.
Have you got a favorite song?
Allen Stone's "Brown Eyed Lover" was a long-time favorite for me. Sam Smith's "Omen" and "Diamonds" are the other latest ones.
Any "shoutouts" to family, friends, or people in the music industry?
My fiance, and partner of nine years, first and foremost. My entire family and friend groups for their support too. You all are amazing. Lastly, the DIME faculty and student body, as a whole, I have to thank. The network and education have been a gift that has kept on giving.
What DIME experiences stood out the most?
DIME was a lot of different things. Albeit, it was a Bachelor's degree program; it was also networking, experiencing, performing, writing music, collaborating, and being immersed in a very musical environment. I'm glad I saw what I did there. Probably being in the same environment with so much talent and opportunity stood out the most to me.
On a parting note, Montrelle added, "Trust in yourself, as you never know who you might impact. Trust your instincts and intuition, and truly be who you are."
Visit George Montrelle's website for more information: www.georgemontrelle.com.
Montrelle's songs can be found on all streaming sources, including Bandcamp and Spotify.