Hambo Coney Island: A Glimpse Behind the Scenes, at one of Ferndale's Best Eateries!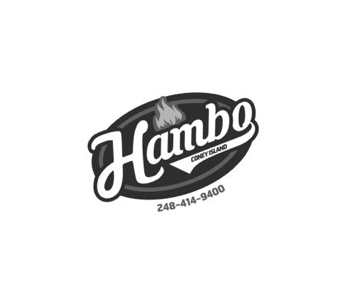 Story and photos by Jennifer Goeddeke
Peter Krasnici, proprietor of Hambo Coney Island, would first and foremost describe himself as a family man,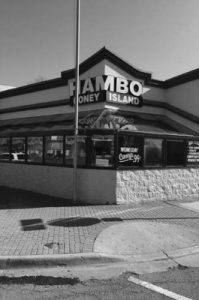 with a strong business sense. Krasnici is young, energetic, and enthusiastic about life, and it certainly shows. He divides his time between running (since 1995) this busy, family-owned business, and his happy marriage of nine years and counting. With three young children to raise (ages two, three and eight), Krasnici is constantly on the go: "…but my personal life with my family makes everything worth it!"
Krasnici has worked his whole career at the one location. "I have been coming here since I was 12 years old!" he explained. "I like what I do, and now have been solo here for two and a half years. My brother Joseph left to run the House of Pancakes in Clinton Township."
Krasnici's style is very personal and informal. "I try not to be a harsh boss," he added, with a big smile. He describes Hambo as being on the less expensive end of the dining spectrum, but with an emphasis on quality and hygiene: "I hate dirtiness with a passion!"
Getting to know his customers is a priority for Krasnici, and he also keeps his radar open to what the younger, "trendier" crowd is leaning towards for breakfast and lunch (currently crepes have been added to the menu, due to popular demand).
The full Hambo menu — which Krasnici completely designed himself — is extensive and includes many new items. It includes various starters;soup/chili; salads; skillets/scramblers; kids menu, plus all the traditional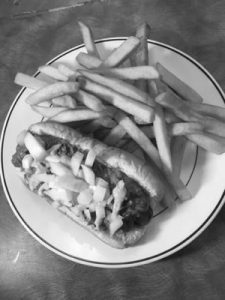 Coney Island fare. Different specials are also available daily.
Krasnici mentioned that renovations for Hambo are coming very soon; the last improvements were in 1999 and, although the diner looks great to me, he sees the potential for some fresh paint!
His wife Diana often visits with his children; sometimes his eight-year-old daughter Viktoria helps to set up tables. He fondly recalls a time where she recently wrote an order by herself! Krasnici is looking forward to his wife joining him in the running of Hambo once his children are older. At that point, he expects to extend his hours into the evening (currently, Hambo is open until 4pm Monday through Saturday, and until 3pm on Sundays.)
Will his children follow in his footsteps? Krasnici explained, "I chose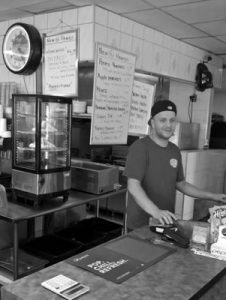 the restaurant industry, and I want them to choose whatever path they want, too. If they want to go to college, that's fine with me!"
Peter would like you to know that they have "good food and good prices," and it's a great place to find good people too.
Hambo Coney Island is located at 22900 Woodward Ave, north of 9 Mile Road at Vester, on the east side of the street.
Hambo is open 7 days a week: 8:00 am-4:00 pm Mondays-Saturdays; 8:00 am-3:00 pm, Sundays. They can be reached at: 248.414.9400 or check out a menu via their web site: www.hamboconeyisland.com. MC and Visa accepted. Wednesdays are Coney Days: 99 cent Coneys all day- no limit, no coupon! Breakfast served all day; Party Hosting & Catering Service available.