By Rebecca Hammond
I'm reading a book called Nature's God, by Matthew Stewart. Subtitled The Heretical Roots of the American Revolution, it's the story of our nation's beginnings combined with a history of philosophy that links to the birth of the American liberal movement, long ago. It's a great read.
Stewart points out that opposite of "radical" isn't necessarily "moderate," it can be "common." Yet radical voices commonly surround us. Do you read Mother Earth News at the Ferndale Library? A pe-rusal of MEN does not need to reveal anything specificallyuseful, the valuable part being reminded that there are a multitude of ways to live. There are radical choices we can make. The advertised way is, in fact, usually the most boring, always being the way to get the task over with the soonest. Has the idea of getting necessary tasks over with quickly so as to free up time for enjoyable or creative ideas worked? I doubt it. There's a resurgence of doing things slowly even if that costs more, knitting being one example. It now costs more to buy yarn and knit a sweater or socks than it does to buy the finished garment, but even so, knitting is again extremely popular.
It's common to discard worn clothing, so just re-pairing it is radical. Leather patches on elbows might be professorial, but they were once merely practical, keeping elbows intact. But a commonly-radical mom wouldn't have tossed a sweater with holey elbows anyway – she'd have ripped off sleeves above the holes and re-knit them.
Same with socks. I used to wonder why old-fashioned socks had contrasting heels and toes until I knit a few dozen pairs myself. A woman fixing socks wouldn't necessarily have still had the same color yarn the socks were originally made of. Not only that, if the heels and toes are a different color, they're easier to remove and replace, even multiple times. If you knit your own socks, you know that the feet are fairly fun to knit, the ribbed ankle cuff more tedious. An entire worn-out sock foot can be cut off, the cuff stitches picked up, and the foot re-knit. This can even be done with commercial socks. What if you don't want to buy this pricey yarn, period? Thrift stores are full of nice sweaters made of high-quality yarn that can be dismantled in an evening. You'll find every kind of wool including merino and cash-mere, and cottons and fun synthetics. The only thing to watch for is the seams. A serged or overlocked seam (see the photo; the serged seam is on the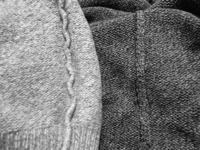 left) means the sweater pieces were cut from large bolts of knit fabric, and if you try to reuse that yarn, every row will be a separate piece. Look for seams that look like the sweater was handmade (like on the right). Remove the seam thread, clip the yarn at the very bottom, and start raveling. I used to bother winding the yarn in a ball, even blocking the kinks out of it, but no longer. A piece of knit fabric is easier to handle than a ball of yarn, and it feels pretty radical to rip a row or two off a former sweater and instantly turn it into a sock or a mitten. The kinkiness of already-knitted yarn is not noticeable as you work. You can make a lot of socks or mittens from a $2 dollar sweater. Almost-free wool socks are radical.
Knitting was socially important and radical recently, when women spent weeks knitting pink hats for a January 21st march that included hundreds of marches worldwide, huge ones in places like London and Chicago and LA, tiny ones in places like Copper Harbor and Kodiak Island. The hats were a mere symbol, but one that kept women united for weeks, some churning out dozens for non-knitters. Keeping one's hands busy with repetitive work is soothing and mind-freeing, so the benefits outweighed the warmth of the hats, the obvious solidarity they symbolized, and the sea of pink that make the marches unmistakable in photos. It was a modern version of a quilting bee, an online version that created unity before the marchers ever gathered.
These marches were important. Watch the documentary, Requiem for the American Dream. As interviewee, Noam Chomsky, leads through the steps that led to our current situation in America, he describes how important and nation–changing large movements have been in our past. Marches matter.
If you prefer knitting to be even more radical, check out a new Ferndale group called The Ladies Knitting Circle and Resistance League on Facebook. We bump mere social knitting up a notch or 12, chipping in for groups like the ACLU or Planned Parenthood. No, you don't even have to knit.
Rebecca Hammond learned to knit about 52 years ago, when her Mom went to knitting classes at church and came home to teach her daughters.