Story by Jaz'min Weaver
Photo Of Bradley by David McNair
Bradley Wall is a local wood worker specializing in everything from headboards to cutting boards. "I enjoy working with wood for its innate beauty, and often feel silly about how excited I get about
different types of woods and designs," Brad admits. That type of enthusiasm for the material is readily apparent in the things that he crafts.
His work is characterized by the use of one of his favorite materials, plaster lath. A lath is a thin strip of wood, usually built into a lattice and then backed with plaster, previously used to finish ceilings and interior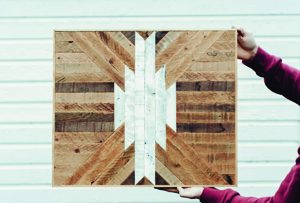 walls. Lath in buildings has diminished since the '50s, and now drywall is employed in its place.
Brad's ability to take a hidden, interior piece of architecture and make it the star of a new item is part of what makes his work so compelling. Sometimes, the wood he uses is reclaimed from crumbling buildings in Detroit. In this way, every creation is born with an inherent history connected to the area. The use of wood from Detroit is symbolic in a way; he wants to make a difference and witness the city rise, renascent with new ideas, artists, restaurants, and jobs.
"I get sad when I think of all the waste that goes into the demolition of houses. In reality, much of the wood from the houses is really high quality, and deserves to be reused."
The benefits of reclaimed wood surpass connecting to the city, and even mere trendiness. It is actually a prime building material because it has had time to cure. The years spent adjusting to the climate have its advantages, according to Brad, "Often times it is much more stable than woods you can buy new…never mind the character you get from sitting in a house for 100+ years. The projects I'm working on aren't exclusively reclaimed but I always strive to be inspired by the material I'm working with."
Despite his great skill, Brad comes from a background of retail and desk jobs. He has been woodworking off and on for about five years. It started simple enough, as form of stress relief and a hobby. He started with remodeling and various other home improvement work. "I also grew up with a dad who has been a craftsman my whole life. He's been a huge inspiration and encouragement to me. I remember him crafting canoes and sails boats by hand when I was very little. It has only been in the past couple years that I have begun to take the art form seriously for myself and allow myself to create fine furniture and art."
When queried about what he enjoys working on, Brad answered, "Big tables are exciting because so much life happens at them." That's another beautiful thing about the work he does; undeniably, even the briefest of glances will reveal that it's art, but so many of the pieces are also durable and functional. Some pieces are decorative, a pleasing combination of woods and colors in slanting patterns. Whether it is ornamental or serviceable, such solid handiwork is sure to be around for generations to come.
The end of January signified two big changes for Wall Woodworking; more openings for commissions and a move into a shop space inside the Russell Industrial Center. This move is an exciting adjustment, since Brad cites a lack of space for more projects and larger-scale ideas as one of the biggest challenges in his work.
Check out his website: www.wallwoodworking.com. Information can also be found on Wall Wood Working's Facebook and Instagram pages about upcoming giveaways.
Wall is as kind as he is talented. "Half the reason I do what I do is to meet awesome people and partner with them in creating something beautiful. I look forward to getting to know more people in this awesome community!"