By Kevin Alan Lamb
OUR WORLD IS RETRACING roots and rediscovering a passion for trades our parents, and grandparents spent lifetimes mastering. Simultaneously, society is relearning to see an individual for the goodness in their heart, joy in their dreams, and the consistency of their contributions. We all have a purpose, but we must travel a personal journey dictated by our choices and commitments to discover the substance with which we will fill our souls.
Rachel Oliver navigated her journey with the help of the skills and life lessons she learned in her father's shadow. In each of his children he instilled the understanding that gender was not an excuse or limitation on one's ability to persevere.
Raised between Taylor and Carleton, Michigan, Oliver was recently launched into the limelight with a once-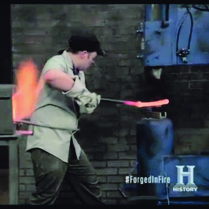 in-a-lifetime opportunity to be a participant on History Channel's fourth season of 'Forged in Fire.' Critiqued by world-renowned bladesmiths, she competed against expert bladesmiths and blacksmiths, filming for 10-15 hours day on set where she won second place.
Can you walk our readers through your average day on set of "Forged in Fire?"
The day starts before the day on set. It starts with a ride through New York City, en route to the Brooklyn forge. Taking it all in was surreal, from cars driving in reverse on one-ways to peddlers on street corners selling food and wares.
Once you arrive at the set, you are in for a long, long haul, consisting of 12- to 15-hour days, and several interviews. There is lots of downtime, which is the coolest part. This is where you get to mingle with the competitors and talk shop, trade secrets, methods and history of many things. The judges are all there, the host is there, and they all come chat.
We didn't forge until late after-noon. We came into the forge for the first time, it's secretive until we enter the floor. We are not privy to any of the layout until it's time to compete. When you walk into the forge, it's like entering battle-grounds, a coliseum if you will.
When the host says "go," it's hammer time and that clock does not stop for anything. Bathroom breaks? Nope [laughter]. Luckily, floor hands take care of our hydration needs. Hydration is the word you hear more on set than anything else. We get so amped up we forget about our own well-being. The entire time you're on the floor there are upwards of 50 people, the judges included, all over the place. You have camera guys following you around, big Hollywood lights, an OSHA guy is on set, I mean it's a huge operation.
What are some key takeaways and moments you will never forget?
I was given the chance to work in an arena that blacksmiths I revere have also competed in. I got to work with three great guys: a youth minister, a blacksmith who's been at it 28 years, and a blade smith with skills that blow my mind. The blade smith, Shawn, was kind enough to sip scotch with me after hours drawing up diagrams of how to make things easier, how he does things his own unique way. One of the best memories though was the cannon-ball run trips through New York City, racing to the studio every morning at speeds none of us expected. Our handler could drive like a pro.
How did you get selected for the show?
I was emailed by them, on a page I sell my wares. All in all, it was about an eight-month process from first email to air date.
Talk about the role your father played influencing your passion and work?
My dad is one of the most gifted, intelligent, creative multi-disciplined tradesman I have ever met. I was his shadow from the time I could walk, always following him around, asking him any questions I could to know more. He was never one to allow my three sisters or I to use "being female" as an excuse to not persevere. He raised warriors, not princesses, and we all have grown into badass, tough-as-nails women. For this, I couldn't be more grateful.
What do you enjoy most about your art/craft?
My niché in bladesmithing is in the vein of repurposing and upcycling quality materials. To take something that served a noble purpose that has gone dull, broken, worn out, and to breathe new life into it with a new job and ability. I feel this is keeping our blue-collar roots alive. Many of the files and rasps I repurpose are a hundred or more years old. I even came across some files made right in Detroit, dating back to 1870! One of these will find its way back to its city of birth for a Corktown sous chef. To me, this is beauty, this is art, this is keeping our history alive.
What are the most challenging and rewarding facets of being a genderqueer lesbian in your field?
Being a genderqueer lesbian has some drawbacks, where men seem intimidated by my presence of being androgynous as well as a woman who can forge. I have heard plenty "get back in the kitchen" and a few homophobic remarks like "the dyke that looked like a man."
What's next?
The next step? The next step is hoping for a redemption episode, one more crack at the Brooklyn forge. Until then, it's hammer down. Expanding my knowledge, abilities, honing my craft, networking more and hoping to pitch an idea for a TV series, blade-related of course [laughing].