By Sara E. Teller
Photo by Bernie Laframboise
My father opened the business originally as a trading post and sold guns, gun licenses, fishing equipment, fishing licenses,and traded-in ice skates," Martin's daughter Carol said.
She now co-owns the hardware store with Paul Krupkins. "It was like a Play It Again store. People could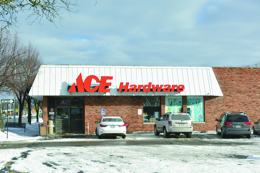 trade-in their used and broken items, such as ice skates, broken shovels, and my dad would offer them ten per cent off a replacement."
Although they were first located in Ferndale, the company quickly transitioned over to Oak Park. "The individual we were leasing from chose not to renew the lease, so we relocated to Oak Park. At the time, we were already building a second location here, so we just moved everything over. We have been here for 72 years, one year prior to Oak Park becoming a city." The original Oak Park location was across the street from their current site.
Carol grew up in Oak Park. She remembers walking to the present location when she was in high school. She said fondly, "I grew up in Oak Park and Paul did, too. We re-member walking here after school. And, I remember dusting the shelves when I was really young with my sisters. I went on the payroll at 15. I'm 63 now."
Scheer's is unique in that its employees are skilled in the particular area of home improvement they are assigned to represent in the store. Carol said, "We hire people who are knowledgeable in their particular departments and in their specialties, unlike some hardware stores where employees cover the whole store. Some staff have been here for 30 years. They've stuck around. We are always looking to hire new people, too, though. The right people with the right skills." She added that Scheer's offers a wide range of specialty services, explaining, "We do pipe cutting, paint mix-ing, knife sharpening, and we cut keys."
Scheer's donates regularly to the Children's Miracle Net-work. The company hosts an annual Ladies' Night at which they have food and drink samplings from other Oak Park companies they partner with, as well as silent and Chinese auctions. Attendees are offered goodie bags at the door filled with food merchandise. "There's easily 300 people who come out every year. It's held right here at the store." Information for the event is posted on the community board at 9 Mile and Woodward and loyalty card holders will receive details over email.
"There is just so much history in this place," Carol said. "We've grown from a one aisle store. We have many great regular and repeat customers. We've been very lucky."